TAP's Database of Public Art Practices in Lebanon
Our Database of Public Art Practices is an on-going research project archiving public art interventions that have taken place in Lebanon from 1980 to present day.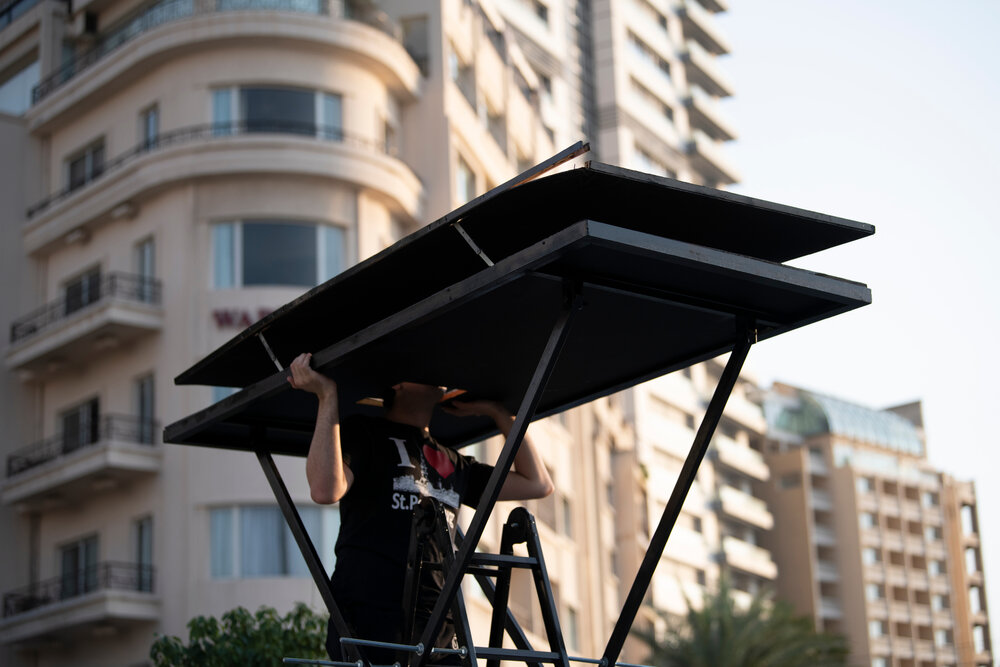 Dare to approach
BePublic
Dare to approach is a statement presented by six ladders, each having a platform above, located along the ain mreiseh seaside. the statement comments on the large obscuring appropriations on the seaside including the banners and billboards that rise 2.52 meters along a 70-meter stretch displaying images of the politicians and the new zeitouna bay, ultimately crippling the once beautiful view of the sea. the public is left with no other option but to take pictures with the banners as their back drop. the ladders then confront and invite the public to climb in order to overlook the banners and enjoy the sea view, however each platform is a horizontal that cuts the vertical perspective. the platforms have small openings that accommodate only the head of the user, yet each presents a unique obstacle resulting in an obscured view and the disappointment of the user. this frustration reflects the false sense of involvement in our country, and so the installation is an ironic intervention that critiques the already existing appropriations on site. Rana Haddad with Amina Kassem, Sari El Kantari, Elie Geha, Tamara Salloum.
Date:
2018
Location:
Ain El Mraisseh
Medium:
Installation
Material:
N/A
Section:
Contemporary
Duration:
Temporary
Tags:
Site-specific intervention
Authorizations:
N/A
Commissioner:
Artist-led initiative