TAP's Database of Public Art Practices in Lebanon
Our Database of Public Art Practices is an on-going research project archiving public art interventions that have taken place in Lebanon from 1980 to present day.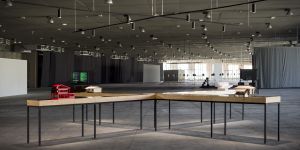 Utopia (the no-place is a real place)
Jorge Mendez Blake
The term "utopia" has been used as a name for different hotels and accommodation around the world, in which the idea of utopia is associated with escaping the everyday life and reitring to an idyllic place filled with well-being and pleasure. Traveling to locations in China, the USA, Thailand and Greece, Méndez Blake has visited some hotels named "Utopia" with the intention of analyzing the hotel's architecture , documenting the city and above all, writing a letter to Thomas More from a place that really is called "Utopia", converting the "no-place" into a "real place". Thus, using different media, Méndez Blake creates a complex narrative, associating Thomas More's original text with the chronicles of fictitious trips to the island and reflections on modernity and contemporary society.